Ultimate Camp Braai (BBQ)
Our Camp Braai (BBQ) is the ultimate campfire Braai (BBQ) you cannot go without. The Braai Basket is 42cm x 30cm x 4.5cm with 3 adjustable settings and the Braai Stand is 42cm x 40cm with 4 levels.
Stainless Steel
The Braai (BBQ) Basket and the Stand is made from sleek, modern, and very rust–resistant 304 stainless steel, so your new camping investment should last you a lifetime.
Variable Height Adjustment
The Braai (BBQ) Stand has four height settings for the perfect temperature when braai'ing. The stand also includes hooks for hanging your Braai (BBQ) Basket next to the fire for slow roasting some ribs or big steaks.
Stay up to date with news and product updates.
Stay up to date with news and product updates.
Whether you're South African or Australian, if you're seeking the ultimate bush camping experience, you can't look past the simplistic brilliance of our new Ultimate Camping BBQ. 
'Braai' is Afrikaans for 'bbq', 'barbeque' or 'roast' and, similar to the sentiment the barbeque holds to the average Australian, the braai is an important social custom in South Africa, as well as Namibia, Zimbabwe and Zambia. 
Simply put, a braai is not just a delicious meal, it's an experience that lasts long after the meat has been cooked and devoured, the drinks have been drunk, and the sun has set.
Settling into life in another country can be truly wonderful, but at times, it can also be quite lonely, leaving you nostalgic for all the familiar sights, sounds, tastes, and smells you're so used to having at home. For South Africans, none can be more so familiar, or dearly missed than the smell of a braai wafting through with the breeze on any given day… or night… or morning! 
We hear you. We know the feeling of your heart breaking just a little when realising that getting your hot little hands on a real, authentic braai in Australia was going to be far more difficult than you first imagined. That's why we've spent an entire year pouring a whole lot of heart and soul into creating and perfecting the ultimate camping BBQ. 
We've thought of absolutely everything to ensure it's both versatile, practical and convenient – because the last thing you want while exploring the great outdoors is to lug something around that's bulky, hard to use, hard to clean, and has only one function! In fact, so good is our ultimate camping BBQ, it's not just a 'must-have' item for South Africans, it appeals to EVERYONE! Whether you're on a camping, surfing or fishing trip, caravaning up and down the coast, or sitting around the firepit in your own suburban backyard, the OZ Braai Camping Braai (BBQ) is the ultimate dinner companion.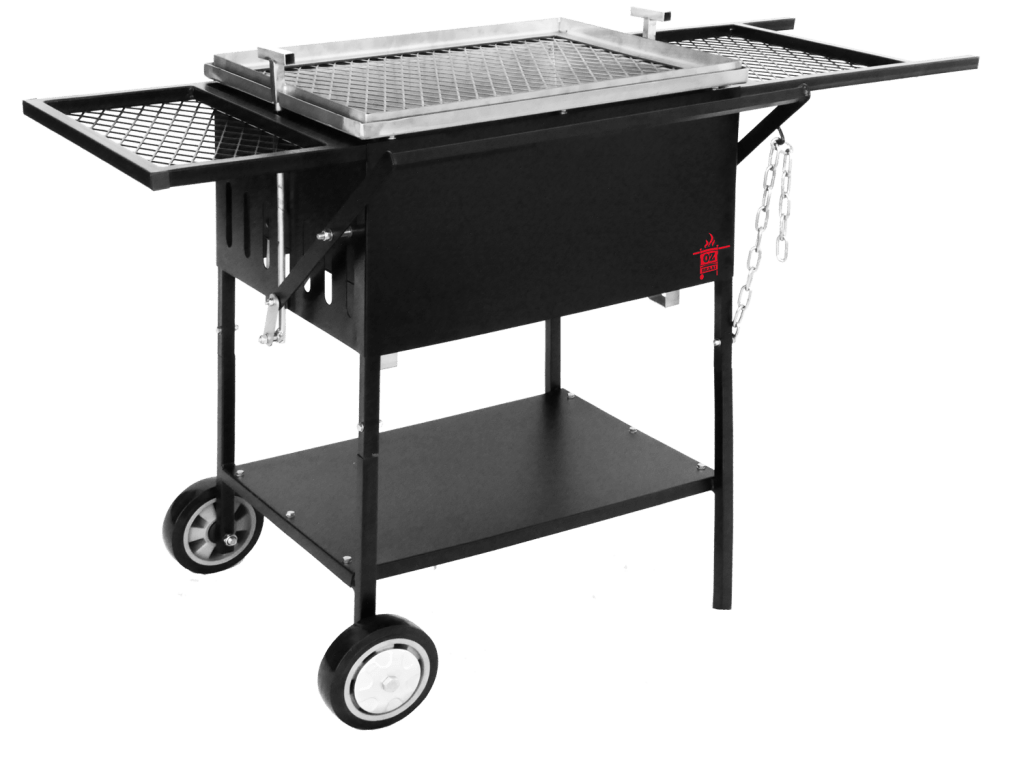 Also, check out our big OZ Braai
The OZ Braai will feature a bin that can be used as a standalone firepit.  The grid also has different levels of height adjustments.
Have a look